Who loves free printable coloring pages for kids?  Everyone loved our 500 Free Printable Disney Coloring pages, so we've rounded up another rocking list of over 1000 Free Printable Coloring Pages for Kids in addition to our original list. Everything from flowers to knights to mermaids to My Little Pony to Baseball stuff and more!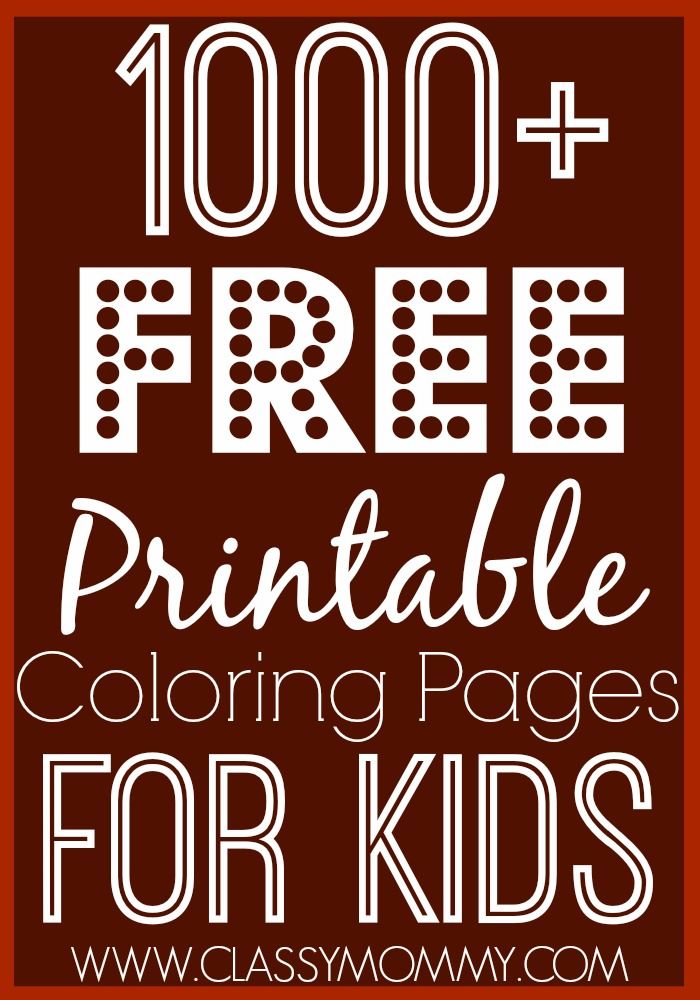 Just click on the links below to see our round up of all the various free printable coloring pages. Everything is listed by topic.
And if you are a Disney fan, or looking for something specifically Disney, feel free to head to our list of over 500 FREE Disney Printable Coloring pages.
Enjoy!
Spring Inspired Coloring Pages // Crayola {49}
Dog Printable Coloring Pages // Free Printable Coloring Pages {47}
Circus and Carnival Printable Coloring Pages // Free Printable Coloring Pages {49}
"In The Ocean" Printable Coloring Pages // Free Printable Coloring Pages {48}
Betty Boop Free Printable Coloring Pages // Educational Coloring Pages {10}
Precious Moments Free Printable Coloring Pages // Educational Coloring Pages {10}
Rainbow Bright Free Printable Coloring Pages // Educational Coloring Pages {10}
My Little Pony Free Printable Coloring Pages // Educational Coloring Pages {10}
Barbie Free Printable Coloring Pages // Educational Coloring Pages {10}
Flower Free Printable Coloring Pages // Coloring.ws {93}
Baseball Free Printable Coloring Pages // Coloring.ws {20}
Football Free Printable Coloring Pages // Coloring.ws {25}
Transportation Free Printable Coloring Pages // Coloring.ws {105}
Animal Free Printable Coloring Pages // Educational Coloring Pages {10}
Sesame Street Free Printable Coloring Pages // Sesame Street {75}
Mermaid Free Printable Coloring Pages // 999 Coloring Pages {30}
Knight Free Printable Coloring Pages // 999 Coloring Pages {45}
Pirate Free Printable Coloring Pages // 999 Coloring Pages {25}
School Free Printable Coloring Pages // 999 Coloring Pages {29}
Backyardigans Free Printable Coloring Pages // Coloring Book {59}
Baby Looney Tunes Free Printable Coloring Pages // Coloring Book {97}
Caillou Free Printable Coloring Pages // Coloring Book {42}
Winnie the Pooh Free Printable Coloring Pages // Coloring Pages for Kids {43}
Doctors and Hospital Free Printable Coloring Pages // Coloring Pages for Kids {34}
Summer Free Printable Coloring Pages // Coloring Pages for Kids {28}