Yum!!!! Peanut Butter galore. Baking with peanut butter yields delicious results and creative recipes. For inspiration, check out the 25 Best Peanut Butter Recipes we curated from brownies to cookies to muffins to breads, peanut butter makes everything taste better!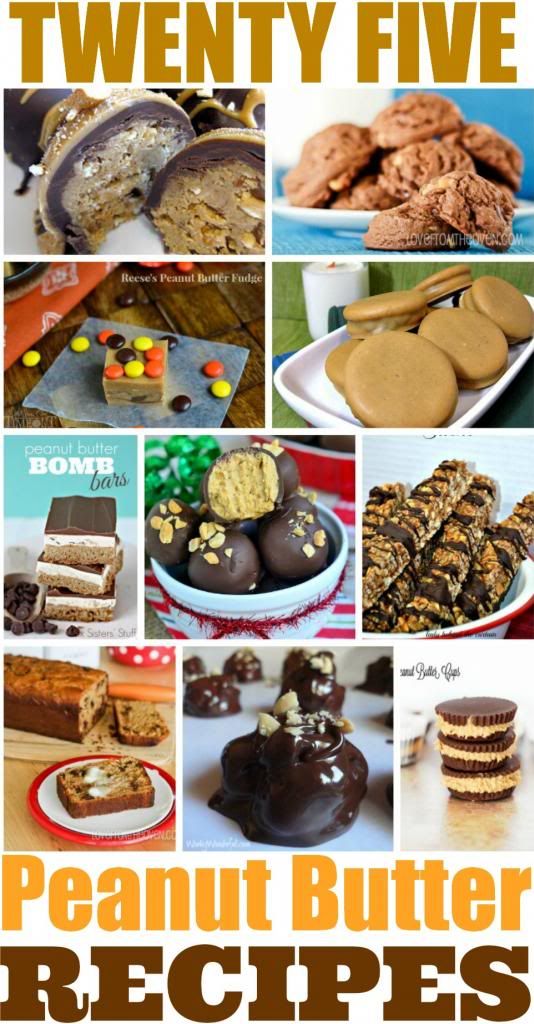 25 Best Peanut Butter Recipes
Our list has recipes for everything you can imagine – from Peanut Butter fudge to peanut butter balls to divine tasting bomb bars and cookies. For breakfast delights we've even got muffins and breads galore too.
Peanut Butter Balls // Love Bakes Good Cakes
Peanut Butter Fudge // Love Bakes Good Cakes
Peanut Butter Banana Breakfast Muffin // Love Bakes Good Cakes
Peanut Butter Bomb Bars // Six Sisters' Stuff
Frosted Peanut Butter Cookies // Six Sisters' Stuff
Chubby Hubby Buckeye Balls // Six Sisters' Stuff
Peanut Butter Cup Cookies // Love From The Oven
Peanut Butter Chocolate Chip Banana Bread // Love From The Oven
Peanut Butter Pop Tart Brownies // Love From The Oven
Homemade Peanut Butter Cups // Measured By The Heart
Peanut Butter Cake Bars // Searching 4 Savings
Peanut Butter Cheesecake // Searching 4 Savings
Peanut Butter Cookies // Suzie QT Pies Cafe
Buckeye Brownies // Suzie QT Pies Cafe
Chocolate Peanut Butter Cups // Coupon Closet
Fluffernutter Truffle // Wonky Wonderful
Peanut Butter & Jelly Rounds // Lady Behind The Curtain
Granola Garbage Sticks // Lady Behind The Curtain
Pay Day Krispy Bars // Lady Behind The Curtain
DIY Uncrustables // The Pinning Mama
Chocolate Covered Peanut Butter Balls // Mom On Timeout
Easy Reese's Peanut Butter Fudge // Mom On Timeout
Peanut Butter Oreo Fudge // Mom On Timeout
Peanut Butter Cookies // The Nerd's Wife
Peanut Butter Chocolate Cupcakes // The Nerd's Wife